Linnstone quartz of 5211 Stonehenge is a type of grey quartz countertop that is perfect for hotel construction or residential projects because it is so durable and easy to clean. It also has a very sleek and modern look that will add a touch of luxury to any hotel room or your house. They also have a very consistent look and feel. In most of the hotel rooms or commercial projects, 5211 Stonehenge is more brilliant for creating a uniform look.
Product Details
Stonehenge offers a dove gray background with white zigzag short line veins, summoned up the sun rises on midsummer's day with lights strike upon the lofty circles of boulders on Salisbury Plain. It absorbs the aura of heaven and earth, holy and mysterious. Click for more details.
Leathered Finish and Raw Finish of 5211 Stonehenge
Leathered Finish: The leather finish on quartz is a newer style of stone that has become more popular in recent years. It can be seen most commonly with darker stones, and gives them an appealing textured appearance while maintaining their natural coloration.
Raw Finish: The more traditional look for quartz surfaces is a raw finish. If you want to have the natural beauty of your stone shine through, then raw finish is perfect for you. This involves simply polishing the stone to perfection without adding any extra treatments or finishes, which allows its natural beauty shine through best-in this type of surface treatment; roughening gives off an impression like rough ore.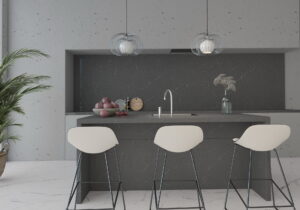 Gray Quartz: The Popular Quartz Countertops Colors in the Market
Gray quartz countertops have become increasingly popular in recent years, and it's easy to see why. Gray is a versatile color that can complement a wide range of design styles, from traditional to contemporary. Plus, gray quartz delivers all the benefits of quartz countertops, including durability, easy maintenance, and resistance to staining and scratches. If you're looking for a stylish and practical surface for your kitchen or bathroom, gray quartz is an excellent choice.
Learn How to Match Gray Quartz Stone
When trying to match gray quartz stone to your home's design, it is important to keep in mind the overall theme and color scheme of your house. You want to make sure that the gray quartz stone you select compliments the style of your home, rather than sticks out like a sore thumb. A good rule of thumb is to select a shade of gray quartz that is similar to the color of your walls. This will help create a cohesive look throughout your home.
Once you have selected the perfect shade of gray quartz stone, you will want to think about how you will use it in your home. Gray quartz stone can be used for countertops, floors, backsplashes, and even walls. If you are looking for a sleek and modern look, consider using gray quartz stone for your countertops. If you want to add a touch of luxury to your home, consider using gray quartz stone for your floors. And if you are looking for a unique backsplash or wall covering, gray quartz stone is a great option.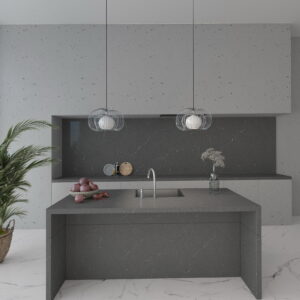 Order A Classic Gray Quartz That's Anything But Ordinary
If you're looking for a classic stone that will add both style and substance to your home, consider gray quartz 5211 Stonehenge. Quartz 5211 Stonehenge is a versatile stone that can be used for everything from countertops to flooring. It's also easy to care for and maintain, making it a great choice for busy families. So if you're in the market for a new stone, be sure to give gray quartz 5211 Stonehenge a try. You're sure to be impressed by its beauty and durability.