Linnstone quartz 6073 Eiger Mist is a Calacatta quartz slab with a sleek, modern design. This beautiful quartz is perfect for countertops, backsplashes, and other home remodeling projects. With its stunning white and brown veining, Linnstone quartz is sure to add a touch of luxury to any space. Whether you're looking to update your kitchen or bathroom, this Calacatta slab is a great choice for any home improvement project. So why wait? Start browsing Linnstone quartz today and see the difference it can make in your home!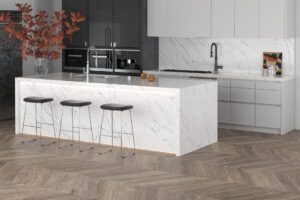 Product Details
Thin mist surrounds the Eiger Mountains as though roaming in a wonderland. The Eiger looms through the mist, partly hidden and partly visible like a fairyland or a fantasy lingering in a dream. Eiger Mist is a quiet white surface marked by sinuate light gray veins with brown edges radiating in all directions. Click for more details.
The Bookmatched Effect of Quartz 6073 Eiger Mist Countertops
If you're looking for a truly unique and luxurious quartz countertop, look no further than the bookmatched effect of Linnstone quartz. This premium quartz is designed with two identical mirror-image halves that are placed side-by-side to create a seamless, ultra-smooth surface. The result is a stunningly sleek and modern countertop that is sure to make a statement in any space. But the beauty of Linnstone quartz doesn't stop there – this durable and easy-to-maintain countertop is also perfect for busy families or anyone who wants a low-maintenance kitchen or bathroom. So why wait? Shop now and discover the stunning bookmatched effect of Linnstone quartz for yourself!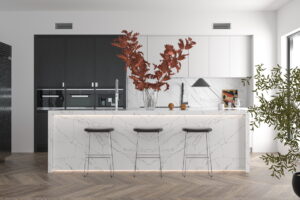 139 * 80" Mega Size Quartz Slabs for Luxurious Home Upgrades
For those looking to make a luxury upgrade to their home, Linnstone has the perfect solution: mega size quartz slabs. These slabs are a full 139" wide and 80" long, making them for large surfaces like countertops, backsplashes, and flooring. And because they made from natural quartz, they offer superior durability and resistance to scratches, staining, and heat. Plus, with their dramatic size and scale, mega size quartz slabs make a big impact in any space. So if you're ready to take your home to the next level of luxury, Linnstone quartz is here to help.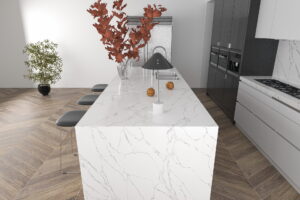 The Benefits of Installing 2CM VS 3 CM Quartz
When it comes to quartz countertops, there are many factors to consider – from cost to durability to maintenance. But one of the most important factors to consider is thickness. So what's the difference between 2cm and 3cm quartz countertops? 2cm quartz countertops are thinner and less expensive than 3cm quartz countertops, but they are also more delicate and can be more difficult to install. 3cm quartz countertops are thicker and more durable, but they are also more expensive. So which is the right choice for you? It depends on your budget and your needs. If you're looking for a high-quality, durable countertop that is easy to maintain, 3cm quartz is the way to go. However, if you're looking for a more affordable option, 2cm quartz may be the better choice. Whatever your needs, 2cm and 3cm quartz countertops of quartz 6073 Eiger Mist from Linnstone quartz have you covered. Shop now to discover the benefits of 2cm and 3cm quartz countertops for yourself!