Linnstone White mixed-grain quartz 7045 Shell White is white quartz with a mixed grain pattern. It is available in slabs or cut to size and has a polished, honed and leathered finish. It is ideal for countertops, floors, and walls in both residential and commercial properties. This quartz is stain-resistant and easy to clean, making it a popular choice for kitchens and bathrooms. It is also heat-resistant, making it ideal for use in fireplaces.
Product Details
As shiny as a shell, Shell White has large particles that rest serenely on a creamy white background. Imagine lying in the soft sand, shells shining brightly offer infinite charm. That's the result of a thousand baptisms and finally dancing under the sunshine. Click for more details.
Highlights of 7045 Shell White
Quartz 7045 Shell White is a type of quartz that is characterized by large grains. The quartz is white, and the large grains give it a distinctive look. The large grains also make it a popular choice for use in applications of vanity tops and countertops where the large grains can add visual interest. Quartz 7045 Shell White is also popular because it is a durable material that is resistant to scratches and cracks.
Top Quartz Countertops That Won't Turn Yellow
When it comes to top quartz countertops, you have a few different options to choose from. One of the most popular choices is white quartz. White quartz has a clean and sleek look that can easily match any kitchen or bathroom décor. Plus, it's easy to keep clean and is resistant to scratches and stains.
Some customers may be concerned that one downside of white quartz is that it may yellow over time due to exposure to sunlight or other sources of heat. If you're looking for top quartz countertop that won't turn yellow, our synthetic quartz 7045 Shell White is a great option. It is made from a mix of different materials, including quartz, resin and pigment. It's less likely to yellow over time and is more durable than natural quartz, making it a top choice for those looking for a durable and long-lasting countertop.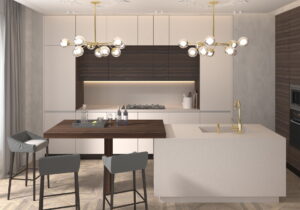 Solid Colors VS Grains Quartz
There are many benefits to having quartz countertops in your kitchen. They are durable, easy to clean, and come in a variety of colors and styles. Linnstone quartz is available in solid colors and with grains mixed in. Some people prefer the look of solid quartz, while others prefer the added interest of mixed-grain quartz.
One of the main benefits of having grains in your quartz countertop is that it can help to hide imperfections. The grains can help to camouflage these blemishes well. Additionally, the grains can add texture and interest to an otherwise plain countertop. If you are considering quartz for your countertops, be sure to look at both solid and mixed-grain options to find the one that best suits your needs.
Get Local Quartz Countertops Are Just a Click Away
Deciding on the right countertop can be a daunting task. With so many materials, colors, and styles to choose from, it's hard to know where to start. If you're looking for a classic look that will never go out of style, white quartz countertops are a great option. 7045 Shell White from Linnstone is a beautiful white quartz with mixed-grain. It's perfect for creating a timeless kitchen or bathroom design. When you buy 7045 Shell White from Linnstone, you can be confident that you're making a wise investment in your home. Linnstone quartz is the best choice for quality and value. Click Where To Buy to get local quartz countertops.