When it comes to showcasing exceptional craftsmanship and innovative designs, Linnstone takes center stage at the Parade of Homes. As a prominent brand in the industry, Linnstone delivers outstanding stone surfaces that leave a lasting impression on homeowners and builders alike.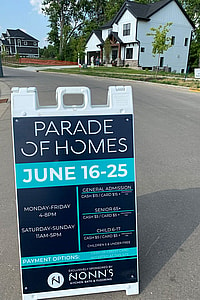 At this year's Parade of Homes, held from June 16th to June 25th, 2023, Linnstone presents a remarkable range of products that have created a buzz in the spotlight. Among their esteemed offerings are the captivating 6033 Golden Punaluu, the sophisticated 3032 Rock Gray, and the inviting 7009 Sandy White quartz surfaces. These surfaces have been carefully selected to enhance various areas of the showcased homes, creating an ambiance of elegance and refinement.
Quartz 6033 Golden Punaluu: The Epitome of Luxury
Quartz 6033 Golden Punaluu, with its white base and intricate golden veins, embodies the epitome of luxury. When used as a countertop material, it exudes a timeless appeal that effortlessly complements a wide range of design styles. Pairing 6033 Golden Punaluu with deep-colored cabinets and chairs creates a visually stunning contrast that adds depth and character to any space.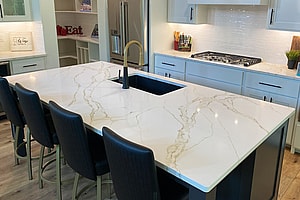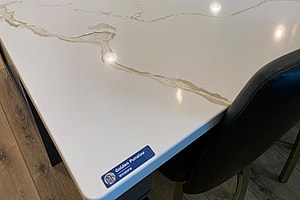 Quartz 3032 Rock Gray: Versatile and Contemporary
Quartz 3032 Rock Gray shines as a versatile and contemporary option, suitable for vanity tops, bar tops, and more. Its sleek and neutral appearance effortlessly complements white cabinets, adding a touch of modernity and sophistication to any space. The seamless incorporation of quartz 3032 Rock Gray surfaces creates a cohesive and visually pleasing aesthetic, enhancing the overall design.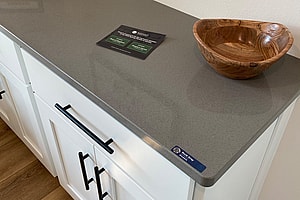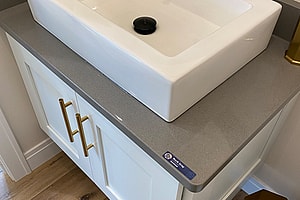 Quartz 7009 Sandy White: Soft and Inviting
Quartz 7009 Sandy White, with its soft and inviting hue, can be a perfect option for bathroom vanity tops. When combined with dark cabinetry, it creates a captivating juxtaposition, striking a balance between light and dark elements. The result is a harmonious blend of colors that exudes a sense of serenity and tranquility.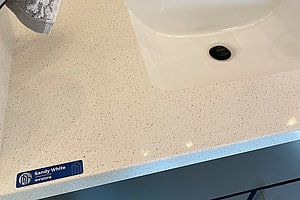 Linnstone's Commitment to Excellence
At Linnstone, our commitment to excellence extends beyond the aesthetics of our surfaces. We take great pride in our focus on quality craftsmanship, ensuring that our products are designed to withstand the test of time. Whether you're a homeowner looking to create your dream kitchen or a builder seeking top-of-the-line materials, our surfaces offer durability, functionality, and unparalleled beauty. We understand the importance of creating spaces that not only look stunning but also stand the test of time, and that's why we go above and beyond to deliver exceptional solutions that exceed expectations. With Linnstone, you can trust that you're getting the finest surfaces that will elevate your home to new heights.
Continuing the Journey with Linnstone: Transforming Your Space with Exceptional Stone Surfaces
As visitors explored the Parade of Homes, they witnessed the meticulous attention to detail and superior craftsmanship exhibited on Linnstone's stone surfaces. These thoughtfully curated products showcased Linnstone's commitment to delivering exceptional solutions that inspire and elevate the world of home design.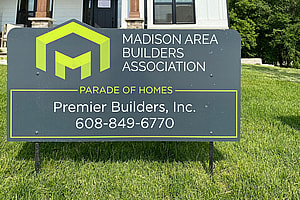 Although the Parade of Homes event has concluded, it doesn't mean you've missed out on the opportunity to turn your dream home into a reality with Linnstone. Feel free to reach out to us anytime or explore our network of authorized dealers to begin the exciting journey of bringing your vision to life. With Linnstone, the possibilities are endless, and we are here to guide you every step of the way.
To learn more about our products and discuss your specific needs, don't hesitate to contact us. Our dedicated team is ready to provide personalized assistance and address any inquiries you may have. Simply click "Contact Us" to get in touch with us directly.
If you're interested in purchasing Linnstone stone surfaces, you can also click "Where to buy" to find nearby suppliers and authorized dealers. We have established a trusted network of partners who can help you bring Linnstone's exceptional surfaces into your home. Don't miss this incredible opportunity to transform your space with Linnstone.