Linnstone light gray quartz 3032 Rock Gray is a mono-color quartz that has a mixed-grain structure. It is made up of high-quality natural quartz stone with resins and pigments. The result is a hardwearing surface that is resistant to scratches, staining, and heat. Linnstone light gray quartz is perfect for kitchen countertops, backsplashes, and other high-use areas. It comes with uniform colors and patterns, making it easy to find the perfect match for your home.
Product Details
Rock Gray is a harmonious and elegant hue giving the most abundant and widest space in the background. Fuse with cold and elegant, warm and soft under the blooming of Rock Gray, it plays the most graceful symphony. It is not merely introverted and rich in texture, but also personable in appearance, showing a unique temperament. Click for more details.
Tips for Choosing the Right Quartz for Your Home
Quartz is one of the most popular choices for countertops, backsplashes, floors, and walls. It is durable, low maintenance, and comes in a variety of colors and patterns. When choosing quartz for your home, it is important to consider the overall look you are trying to achieve.
For a light and airy feel, try white or light-colored quartz. If you want something with more of a pop, go for a bolder color or pattern. For a classic look, try dark or neutral quartz.
Linnstone quartz is also available in a variety of finishes, from polished to honed. Choose a finish that fits the style of your home and the overall look you are trying to achieve.
Once you have decided on the color and finish of quartz you want, be sure to check out the different types available. Mixed-grain quartz, like Linnstone light gray quartz 3032 Rock Gray, is a popular choice for countertops and backsplashes. It is mono-color quartz that can help your home get a more unique look. Mono color quartz is available in one solid color with no veining or patterns.
No matter what type of quartz you choose, be sure to consult Linnstone before making your final decision. We can help you select the perfect quartz for your home and provide helpful tips on purchase and care.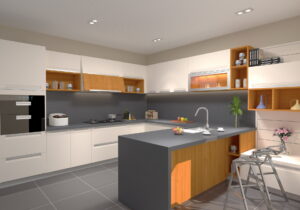 Mixed Grains Quartz 3032 Rock Gray Dimensions
Quartz 3032 Rock Gray is available in two sizes - Jumbo and Mega. The Jumbo size is 127 x 64 inches and the Mega size is 139 x 80 inches. The slab thickness for both sizes is 3/4 inch (20 mm) or 1 1/4 inch (30 mm). Its light gray color gives it a modern and sophisticated look. It is also durable and easy to care for.
Whether you are looking for a new countertop for your kitchen or a beautiful new floor for your living room, quartz 3032 Rock Gray is a great option to consider.
Find a Fabricator or Retailer Near You
Looking for a place to buy quartz surfaces? Click Where To Buy to choose the fabricators and retailers near you. Get 3032 Rock Gray with a competitive price and high quality. With its sophisticated gray tones, this quartz surface is perfect for creating elegant countertops, backsplashes, and other design features. So check out where to buy today and get the quartz surfaces you need for your next project.