Linnstone quartz 3003 Moreno White is a mixed-grain quartz that features a beautiful white color. This quartz is perfect for a variety of design projects, from countertops and backsplashes to floors and fireplaces. Linnstone quartz is durable and easy to care for, making it an ideal choice for busy households.
Product Details
Beautiful and magnificent, Moreno White is as crystal clear as a glacier. Fine particles of the quartz surface on a glacier-white background reminiscent of snowflakes. Under the action of heat or pressure, it turns into globular snow, called Firn. Firn, the base form of glaciers, is tiny and soft. Click for more details.
The Durability and Easy Care of Quartz 3003 Moreno White
Quartz surfaces are one of the most popular countertop options on the market today. And for good reason – quartz is incredibly durable, easy to care for, and comes in a wide variety of colors and patterns. Linnstone quartz 3003 Moreno White with a mixed-grain pattern is a perfect example of the beauty and versatility of quartz countertops. The mixed-grain pattern adds interest and depth to the surface, while the white color keeps the space feeling bright and airy. Quartz is also very strong and scratch-resistant, making it a great choice for busy households. Plus, it's non-porous so it won't stain, making quartz countertops a low-maintenance option that will look great for years to come.
Quartz Surfaces Finishes Quartz is one of the most popular materials for countertops, backsplashes, and other home surfaces. Its durability and beauty make it a popular choice for both home and business owners. When choosing quartz surfaces, one important factor to consider is the finish. Linnstone quartz 3003 Moreno White has three finishes to choose from: polished, honed, leathered.
Polished quartz has a glossy surface that reflects light. Honed quartz has a softer, matte finish. Leathered quartz has a textured, rough surface. Each type of finish has its own benefits and drawbacks. Polished surfaces are one of the most popular choices for countertops! Polished surfaces are easy to clean and maintain. The polish also acts as an extra level of protection for your countertops, making them less porous and able to withstand stains. In order to maintain the gloss of the polished appearance, it is important to clean these surfaces frequently.
Honed surfaces are smooth, flat surfaces that have been ground down to create a matte finish.This type of finish is popular for quartz surfaces because it creates a softer feel and eliminates the need for polishing. This non-reflective quality allows honed finish to mask etches and stains better than a polished finish.
Leathered surfaces are given a finish that helps to highlight the natural color of the stone while still providing a textured appearance. As a result, leathered quartz surfaces are an excellent choice for those who want to maintain the natural look of their quartz countertops or floors.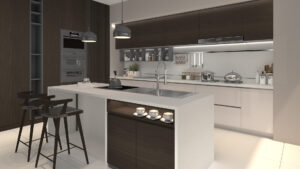 Buy Quartz 3003 Moreno White from Linnstone
If you're looking for white quartz with mixed grain, look no further than 3003 Moreno White. This beautiful stone is perfect for a wide range of design applications, from kitchen countertops and backsplashes to flooring and wall cladding. And because it's so versatile, it's easy to find where to buy 3003 Moreno White quartz. You can either contact us directly or click the "Where to Buy" button on our website. Either way, we'll be more than happy to assist you in finding the perfect stone for your next project. Thanks for considering 3003 Moreno White quartz!