Linnstone brown quartz 6398 Mackinac Brown is beautiful brown quartz with veining that resembles marble. It is perfect for kitchen countertops, bathroom vanities, floors, and other indoor applications. This quartz is also heat and scratch-resistant, making it a durable and low-maintenance choice for any home.
Product Details
Mackinac Brown is a complex combination with dark brown and gray veins intertwining layer upon layer, swirls of curving lines like dancing on the lake. Like the Water Palace floating between Lake Michigan and Lake Huron, Mackinac looks more quiet and peaceful than the sea. Click for more details.
Matching Method of Cabinets with Brown Quartz 6398 Mackinac Brown
Brown quartz 6398 Mackinac Brown kitchen countertops can give your kitchen the luxurious look of marble without the high price tag or the maintenance. This stone has a dark brown base with beautiful short veins in shades of cream, and rust that adds movement and interest. Veining quartz 6398 Mackinac pairs well with a wide range of cabinet colors, from natural wood tones to painted cabinets. If you have white cabinets, consider using brown quartz as an accent countertop in your kitchen island or as a backsplash. For a more dramatic look, pair brown 6398 Mackinac Brown with black or charcoal gray cabinets. This color combination is perfect for a modern or contemporary kitchen. No matter what cabinet color you choose, brown quartzite is sure to give your kitchen a stylish and sophisticated look.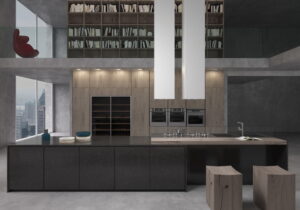 Brown Quartz Colors is the Popular Colors on the Market
Some may say that 6398 Mackinac Brown is one of the best-looking brown quartz colors. It is a dark, golden brown color with subtle veins throughout. Quartz 6398 has a high quality that many commercial and residential warranties cover. Quartz 6398 Mackinac Brown is a perfect color for those who are looking for something unique but not too flashy. The durability of this quartz makes it ideal for high traffic areas such as kitchens and bathrooms. With easy maintenance, it is no wonder that 6398 Mackinac Brown is one of the most popular colors on the market.
Reason for Choosing Brown Quartz 6398 Mackinac Brown Rather than Brown Granite
There are many reasons why homeowners might choose Brown quartz 6398 Mackinac Brown for their countertops instead of brown granite. For one, quartz 6398 Mackinac Brown is more heat resistant than granite, making it ideal for homes with young children or clumsy adults. It is also less likely to stain, and it requires very little maintenance. In addition, Mackinac Brown has a unique short veins pattern that can add visual interest to any kitchen or bathroom. Granite, on the other hand, is a more traditional choice. It is also quite durable and easy to clean. However, granite is not as heat resistant as 6398 Mackinac Brown, and it can be susceptible to staining. Ultimately, the decision of which material to choose will come down to personal preference. But for those who are looking for a unique and low-maintenance option, quartz 6398 Mackinac Brown is an excellent choice.
Competitive Price of Quartz 6398 Mackinac Brown
When it comes to quartz countertops, there is a wide range of prices. Depending on the quality of the quartz and the brand, quartz countertops can range in price. Linnstone quartz 6398 Mackinac Brown is a beautiful quartz surface that offers the same durability and performance as more expensive brands, but at a fraction of the cost. This makes Linnstone quartz an excellent choice for homeowners who want the look of quartz without breaking the bank. Contact us for a quote right now.