Linnstone veined quartz 6317 Mt Blanc is a beautiful white quartz with black veining. The veining is what gives this particular stone its unique look. The veining can be either fine or course, and the overall effect is very striking. Linnstone veined quartz 6317 Mt Blanc is a popular choice for both countertops and flooring. It is durable and easy to care for, making it a great choice for busy households. If you are looking for veined quartz that is both beautiful and practical, then Linnstone veined quartz 6317 Mt Blanc is the perfect choice for you.
Product Details
No one can gain an insight into Mt Blanc's grandeur and magnificence when enfolded by a mist. Mt Blanc is set within clouds of mist with intricate black veins clinging to a white snow mountain background. Mt Blanc is shimmering high above just like the poet Percy Bysshe Shelley wrote in the poem, "Far, far above, piercing the infinite sky, Mont Blanc appears, still, snowy, and serene. Its subject mountains their unearthly forms". Click for more details.
20 mm and 30 mm Slabs Available!
Looking for high-quality Linnstone slabs? We've got you covered! We have both 20 mm and 30 mm slabs available, so you can choose the perfect one for your needs. Our Linnstone is tough and durable, making it ideal for a variety of applications. Plus, it's easy to work with and resistant to chipping and cracking. So if you're looking for a top-quality product, you've come to the right place. Contact us today to place your order!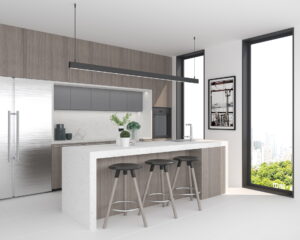 Quartz Maintenance & Warranty
Linnstone quartz 6317 Mt Blanc is one of the easiest surfaces to take care of and with a lifetime residential warranty and 10 years of commercial warranty, you can have peace of mind that your investment will last. Because it is non-porous, quartz 6317 Mt Blanc does not require sealing and is resistant to chipping, scratching, and staining. In addition, it is heat resistant and can withstand temperatures up to 300 degrees Fahrenheit. To keep your Linnstone quartz 6317 Mt Blanc looking its best, simply wipe it down with a damp cloth or sponge and mild soap. For tougher stains, you can use household cleaner or white vinegar. With proper care, your quartz 6317 Mt Blanc will continue to look beautiful for many years to come.
Veined Quartz 6317 Mt Blanc - Contact Us Now!
If you're looking for a stone that's sure to start a conversation, you can't go wrong with veined quartz. This beautiful natural stone is available in a variety of colors and patterns, but the most striking option is undoubtedly white quartz with black veins. Due to its unique veining, this stone is highly sought-after by homeowners and interior designers alike. Whether used as a kitchen countertop or bathroom vanity, veined quartz is sure to add a touch of luxury to any space. So if you're looking for a way to make your home stand out from the rest, consider veined quartz 6317 Mt Blanc!