If you're looking for light gray quartz countertops with a fine grain, 1100 Merapi Gray from Linnstone is a great option. This stone has a light gray base with subtle find grain, giving it a refined look. The light gray color is perfect for those who want a light and airy kitchen. It is a mono color quartz slab that would look great in any kitchen. It's also one of the more durable options on the market, making it a great choice for high-traffic areas.
Product Details
Merapi Gray covers its quartz surface expanse with ash gray as its tonality. It calls to mind the scene of falling volcanic ash on the splendor of the gray world after the moment when the fiery magma broke through thousands of years of ice and snow, the soaring lava lits up the pitch-dark night sky. Click for more details.
Problems to Consider When Choosing Light Gray Quartz Countertops
When it comes to light gray quartz countertops, there are a few things you need to keep in mind.
First, you want to make sure you find the perfect grained quartz. The right quartz will have a light, even color that will complement your light gray cabinets or walls.
Second, you want to make sure you match your light gray quartz slabs with the rest of your interior design. If you have a monochrome design, for example, you'll want to make sure your light gray quartz slab matches that aesthetic.
Finally, you'll want to consider where you place your light gray quartz countertop. One popular option is to use it as a backsplash behind your stove or sink. But light gray quartz countertops can also be used as bar tops, island highlights, or flooring accent pieces.
With so many options available, it's easy to find the perfect light gray quartz countertop for your home. So what are you waiting for? Our light gray quartz 1100 Merapi Gray can be your best choice.
The Different Between Fine Grain Quartz and Coarse Grain Quartz
When it comes to choosing light gray quartz countertops, there are many factors to consider. The first step is to decide what type of light gray quartz you want. Do you prefer light gray quartz with a fine grain or light gray quartz with a coarse grain?
Once you've decided on the type of light gray quartz you want, it's time to start shopping around. There are two types of light gray quartz - fine grained and coarse grained. Fine grained quartz has a silky, smooth texture with a small grain size. It is usually used for countertops and floors because it has a high resistance to scratching and staining. Coarse grained quartz has a larger grain size and a rougher texture. It is often used in construction because it is strong and durable.
When choosing between fine grain quartz or coarse grain quartz, it is important to consider the overall look you are trying to achieve. Both types of quartz are available in a variety of colors, but light gray is the most popular choice. Linnstone quartz 1100 Merapi Gray is a light gray quartz slab with fine grain. It has a more consistent color and veining throughout the slab, and the overall design is very sleek and modern which is well worth your consideration.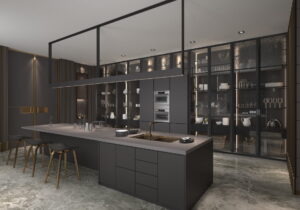 Get a Quote for Quartz 1100 Merapi Gray Today
At Linnstone, we pride ourselves on offering the finest quality quartz for all of your construction or home design needs. Our quartz 1100 Merapi Gray is perfect for a wide variety of applications, including countertops, flooring, and vanity tops. If you're looking for a beautiful and durable material for your next project, look no further than Linnstone quartz. Contact us today to learn more about our products and how we can help you achieve your vision.