Nowadays, more and more people tend to use quartz in our daily life for it has many advantages. As we know, Linnstone is one of the most professional and reliable suppliers who can provide us high-quality products. Therefore, in order to meet customers' needs, Linnstone launches a new type of product-quartz 5015 Byron White.
This product is made of high-quality materials and advanced technology, which can make sure its durability and practicability. Besides, it has a unique design and elegant appearance, which can add a touch of beauty to your home decoration. And most importantly, it is very easy to clean and maintain.
If you are looking for a new type of product to decorate your home, then quartz 5015 Byron White is definitely your ideal choice!
Product Details
Charcoal grey veins hit the milky surface as waves chase and race against each other, creating a flow of nature. The cascading design of Byron White adds a sense of movement and mystery. Click for more details.
Use Quartz Stone 5015 Byron White for Various Applications
Quartz 5015 Byron White is a versatile material that can be used in a variety of applications. Whether you are looking to create a beautiful backsplash or build an eye-catching waterfall leg in your kitchen, this premium quartz countertop offers unparalleled beauty and durability. It can also be used for floorings. Linnstone can help you get started on your design project, we have included an accompanying sketch with some ideas for how this stunning material can be incorporated into your home or office. So why wait? Check out Quartz 5015 Byron White today and see for yourself what makes it one of the most sought-after materials on the market!
The Most Popular Quartz Countertop Colors in 2022
Quartz countertops are one of the most popular choices for kitchen and bathroom surfaces due to their combination of beauty and strength. Quartz is made from a mixture of ground quartz, resins, and pigments, making it incredibly durable while still offering a wide range of vibrant colors. Quartz comes in a wide range of colors, ranging from rich, warm shades like caramel and maple to cool, metallic tones like silver and steel. In particular, white quartz with charcoal grey veining has become increasingly popular in recent years. Quartz 5015 Byron White is the perfect blend of both white and gray décor schemes, making it easy to incorporate into any home or office space. It is easier for homeowners to find a style that perfectly suits their personal taste and aesthetic preferences.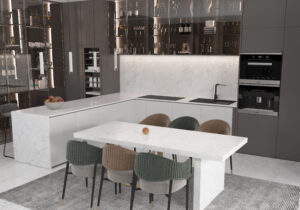 Care & Maintenance of Your Quartz Surface
To care for your quartz surface, you will need to clean it regularly using a damp cloth and a non-abrasive cleaner. This will help to remove any buildup of dirt and grime that can dull the appearance of the surface over time. At the same time, whether you are using your quartz surface in a residential or commercial setting, be sure to also check your warranty information to make sure that you are covered for any damage or defects. With proper care, quartz surfaces can be one of the most beautiful and long-lasting materials for countertops, floors, walls, and more. View Care & Maintenance for more details.
Buy Modern Countertops Near You
Linnstone's new quartz countertop, the 5015 Byron White, is now available for purchase. This white quartz countertop features a sleek, modern design that is perfect for any home. It provides a beautiful, natural look that will add value to your home. Order your quartz countertop today and enjoy the beauty and durability of quartz for years to come.