The combination of black and white quartz countertops is sometimes called "tuxedo." Depending on the other décor, it can be as casual or formal as the homeowners want. This quartz is striking and elegant, but not cold. Linnstone new quartz of 5107 Vinson Crest is a quartz slab that looks like Calacatta marble. It has white quartz with black veins running through it and is perfect for countertops, backsplashes, and floors. It's also great for walls, fireplaces, and accent pieces. This quartz is durable and easy to care for, making it a wise choice for high-traffic areas. It's a good choice for those who want the look of marble without the hassle of maintenance. Come see it at our showroom today!
Reasons to Choose White Quartz with Black Veins
As anyone who has ever shopped for countertops knows, there are endless choices when it comes to colors and materials. So why choose white quartz with black veins? First of all, white is a classic color that will never go out of style. It also has the benefit of being light and airy, making small spaces look bigger. Black veins add a touch of sophistication and drama, making white quartz the perfect choice for both traditional and contemporary spaces. So if you're looking for a countertop that is both beautiful and practical, our new quartz surface 5107 Vinson Crest is a chic white quartz with black veins that is the way to go.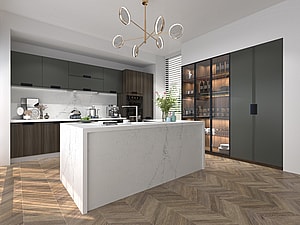 Product Details
At the end of the world of the Antarctic, the sculptural sweep of snow and ice surface is interrupted by majestic Vinson Crest. A winding frozen black ridge vein stretches miles from the peak to the open area, meeting the sky along a noticeably curved horizon. A paradise of clean lines—austere, vast, unfussy deserves to savor. Click for more details.
Keep Your Linnstone Surface Looking New
Caring for your Linnstone quartz countertop or surface is a breeze, thanks to its durability and maintenance-free nature. This state-of-the-art material has been engineered to withstand years of use without any loss in quality, making it the ideal choice for kitchen counters, bathroom vanities, or other high-traffic areas in your home. With just a quick wipe down each week with a damp cloth or non-abrasive cleaning solution, your Linnstone surface will stay clean and free from buildup indefinitely. So if you're looking for an investment that is beautiful, low-maintenance, and built to last, look no further than Linnstone quartz!
Order today and enjoy your new quartz surface in no time!
If you're in the market for a new surface for your kitchen countertops or office reception area, look no further than linnstone's 5107 Vinson Crest quartz surfaces. These beautiful and durable quartz surfaces are sure to exceed your expectations, and with our fast shipping, you'll be enjoying your new surface in no time! Place your order today and start enjoying the beauty and convenience of linnstone's superior products!