Linnstone quartz 6082 Calacatta Cloud is a beautiful Calacatta white quartz with gray veins. It's one of the most popular choices for quartz surfaces. The unique vein pattern is what sets this stone apart from other Calacatta quartz. It's perfect for those who want a Calacatta that looks different from the rest.
Calacatta Cloud is a low-maintenance stone that is easy to clean and care for. It's also stain-resistant and scratch-resistant, making it an ideal choice for high-traffic areas. Thanks to its durability, this stone can be used in high traffic spaces.
If you're looking for a Calacatta quartz that stands out from the rest, Linnstone quartz 6082 Calacatta Cloud is the preferential choice for you.
Product Details
Graceful and natural, Calacatta Cloud features long gray lines on a cream-white base like a gorgeous fairy-tale princess in a light white dress, bringing people a beautiful vision. Rising and falling, rolling and unraveling, the clouds move with the wind, misty and scattered. Click for more details.
Five Ways to Style Linnstone Quartz 6082 Calacatta Cloud
Calacatta Cloud is a beautiful quartz countertop option with gray veins that can bring an elegant touch to any kitchen or bathroom. There are many ways to style this countertop, depending on the overall look you're trying to achieve. Here are five different ways to style Calacatta quartz:
1. Pair 6082 Calacatta Cloud with white cabinets for a classic look. The veins in the countertop will add just enough interest and contrast to make the space pop.
2. Create a modern kitchen by pairing 6082 Calacatta Cloud with black cabinets. The sleek lines of the cabinets will complement the veins in the countertop for a chic look.
3. Use 6082 Calacatta Cloud to create a dramatic backsplash. The gray veins will provide a beautiful contrast against white or light-colored tiles.
4. Create a rustic kitchen by pairing 6082 Calacatta Cloud with reclaimed wood cabinets. The natural beauty of the wood will highlight the unique veins in the countertop.
5. Bring an air of elegance to your bathroom by using 6082 Calacatta Cloud for your vanity top. The luxurious look of the countertop will make any bathroom feel like a spa retreat.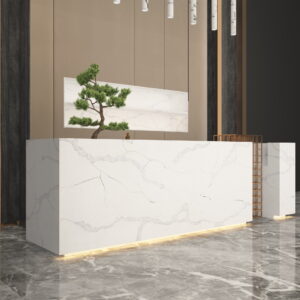 You will be amazed at Mega Size quartz slab 6082 Calacatta Cloud, guaranteed!
When it comes to quartz, size definitely matters. The larger the slab, the more impressive the overall look. Mega Size 139 * 80" Calacatta quartz 6082 Calacatta Cloud with gray veins is simply stunning. The extra size gives the stone a feeling of grandeur and luxury. And, because there are fewer seams, the finished project has a much cleaner look. If you're looking for quartz that will truly make a statement, Mega Size Calacatta quartz is the way to go.
Your new countertop is just a click away.
As any interior designer knows, choosing the right material for a project is essential. With so many options on the market, it can be difficult to know where to start. However, if you are looking for a material that is both beautiful and durable, Quartz 6082 Calacatta Cloud is a great choice. It is also extremely versatile, making it an ideal choice for a wide range of applications. Whether you are looking for kitchen countertops or floor tiles, this material is sure to add elegance and sophistication to any space. Get free quote right now!