Linnstone quartz is excited to introduce our new 6085 Calacatta Glacier countertop with stunning fish-scale veins. This exquisite quartz countertop is perfect for creating a luxurious, spa-like atmosphere in your home. The 6085 Calacatta Glacier has a soft white background with delicate grey veining that resembles the scales of a fish. It is sure to add a touch of elegance to any kitchen or bathroom. Our Calacatta quartz countertops are made from the highest quality materials and are backed by a residential lifetime warranty and commercial 10 years warranty. Contact us today to learn more about our Calacatta quartz countertops and see how they can transform your space.
Product Details
Calacatta Glacier is a cool inspiration with fish-scale stripes piercing the whole surface. This stand-out design is derived from nature: geological movement and the erosion of ablation water have created the shapes of fish scales on a glacier, which is called the gravity flow. Click for more details.
Reasons of Choosing Calacatta Quartz 6085 Calacatta Glacier
Calacatta quartz 6085 Calacatta Glacier is an increasingly popular choice for countertops, and it's easy to see why. This luxurious stone has a unique veining pattern that can add a touch of elegance to any home. If you're considering Calacatta quartz for your next project, here are a few things to keep in mind.
First, quartz 6085 Calacatta Glacier is durable and easy to maintain. It's a great choice for busy families or anyone who wants a low-maintenance countertop.
Second, quartz 6085 Calacatta Glacier is heat and scratch resistant, making it a great choice for kitchens.
Third, this stone is available in a variety of colors and styles, so you can find the perfect match for your home.
If you're considering Calacatta quartz for your next countertop project, keep these things in mind. This luxurious stone is a great choice for any home and can add a touch of elegance to your space. Contact Linnstone, a Chicago local countertop professional quartz company to learn more about Calacatta quartz and get started on your next project.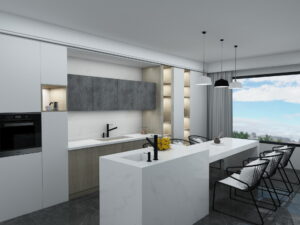 Get Your Quartz Countertops 6085 Calacatta Glacier Clean in Minutes
As any homeowner knows, keeping countertops clean can be a challenge. Even with daily use, it's easy for dirt, dust, and grime to build up. And when it comes to engineered stone countertops, the task can seem simpler. But with a little care and knowledge, it's easy to keep your quartz countertops 6085 Calacatta Glacier looking like new. Here are a few tips for cleaning your countertops:
-Start by dusting or vacuuming the surface to remove any loose dirt or debris.
-For bigger messes, such as spills or stains, start by blotting the area with a clean, dry cloth.
-Next, gently scrub the area with a mild soap or cleanser. Be sure to use a soft brush or sponge to avoid scratching the surface.
-Rinse the area well with clean water and dry it off with a soft cloth.
-For tougher stains, you may need to use household cleaners. Be sure to read the instructions carefully before use.
With a little time and effort, it's easy to keep your quartz in good condition for years. Click here for more details to download the Care and Maintenance Guildlines.
Order Now to Get Your Quartz 6085 Quartz Calacatta Glacier
Made from Linnstone, this durable countertop 6085 Quartz Calacatta Glacier is perfect for your kitchen or bathroom. It's easy to clean and maintain, and it comes in a variety of applications to match your decor. With its modern look, the quartz 6085 Calacatta Glacier will give your home a stylish update. So don't wait any longer, order your quartz 6085 Calacatta Glacier today!